How to plan and execute a creative, brand-aligned photoshoot on a budget
Photography is so SO important in business. The use of your own photos (not stock photography) helps create an authentic, professional brand.
It also helps set the tone, personality and overall aesthetic of your brand – they say a picture is worth a thousand words!
I have worked with many amazing photographers and value their profession so much – they have such creative talent to turn anything they shoot into breathtaking art.
I do however understand cash can be a little low sometimes and it may be difficult to find the money to pay for a professional photographer to regularly shoot your social media content.
So, if you are unable to have a professional photographer take your photos, I have put together some helpful tips from my experience below on how to take creative, brand-aligned photos on a budget.
I have also created a helpful little checklist to make your next photoshoot a breeze!

1. Moodboard
A moodboard is a great way to establish the overall aesthetic and feel of the photoshoot you are going to do. Depending on the reason for your photoshoot (profile shots, flat lays, social media content), the moodboard can include images of colours, outfit choices, props, poses and location ideas.
Here is an example of the moodboard I created for my last photoshoot:
To create your moodboard, I recommend using Canva.com which has a free account option. Canva is a great website where you can upload images, overlay shapes and textures, add fonts and easily move things around until you're happy with it – perfect for a moodboard!
2. Choosing a Location
Home
I am lucky enough to rent a house that has timber floors and white walls. Little do people know however, it is a VERY old house with an incredibly ugly front, holes in the walls and cracked tiles in the bathroom BUT I can choose what people see of my house.
If you can, choose a corner or section of your home that you can do up with props, a cute mat, nice chair and of course, your lovely self. If you don't have a nice chair, cover it up with throw and add some pillows!
Here's a shot of a photo full width and another photo cropped in the same space. The left image isn't exactly pretty and the focal point is unclear, so taking the photo close up or cropping the image makes a whole lot of difference (and no body has to know what the rest of that space looks like!).
A mate's place
Do you have a mate that has a beautiful home OR has a corner of their home you can do up? (like the corner of my house in the above images). Have a photoshoot at your mate's place, all they need to do is vacuum 😉
Visit a cafe
There are some really beautiful cafes on the Sunshine Coast you can get some photos taken at (even if you're not on the Sunshine Coast, there's bound to be some awesome cafes near you), you'd just have to ask the cafe owners in advance if it's okay! This option may cause some uneasiness in some people due to the very public nature of this type of photoshoot, so if you're not comfortable with this one, choose another option.
Visit the Urban List blog post about the "11 most beautiful Sunshine Coast cafes you need to visit" for some inspo here.
Cool local walls
There are some really cool local places you can find to take photos in front of. For example, the amazing Cass Deller painted a mural in Cotton Tree, Sunshine Coast which is PERFECT for photos if your brand is bright, feminine and has some shade of pink in it.
Other great locations include the beach at sunset, any of the Buderim parks (amazing views), Sunshine Coast Hinterland, Cafe La Canteen Buddina pink wall and so many more… get creative with it!
Even if you find a plain wall somewhere with great texture (like brick), contrast this with a colourful / bright outfit and add a statement piece like a hat or handbag to make the photo interesting!
3. Outfit and props
I would recommend at least two outfits for a photoshoot, so you can have a completely different look at the same location. This helps to get the most out of your photoshoot!
I wear clothes I already have in my wardrobe to save money. I also try and wear a touch of my main brand colour because I know this looks great in my Instagram feed (I'm lucky mustard has been a fav of mine for a while, so I had plenty of options to choose from!).
If in doubt, wear a pair of jeans or black pants and a white / neutral top, you can't go wrong!
When it comes to props, less is more, especially if you're out at a café taking photos, you don't want to be lugging around boxes of stuff to set up.
Tip: put together a few items that are similar in colour to your brand aesthetic and do a test layout with everything together to make sure all the props match. Having props that align with your brand aesthetic helps your photos and social media feed look on point which in turn build a strong brand presence because everything is consistent and your target market know what to expect from you.
Here are some ideas for props, based on my brand photoshoots:
4. Hair and makeup
I personally don't go overboard with hair and makeup mainly because I prefer a more natural look. If you prefer otherwise, go for it!
It helps if you can do your own hair and makeup to keep the cost of the photoshoot down, but if you don't know how and you're willing to learn, there are SO many YouTube tutorials out there on how to do makeup and hair for your particular face shape and colour.
It will benefit you greatly to learn how to do it yourself because if you post at least once a day on social media, you'll need a hell of a lot of photos to keep it up!
Here are some hair and makeup tutorials I found surfing Youtube.
Natural Beach Waves with a flat iron
5. Models
Do you want fake clients in some of your shots? This is something to think about if you are wanting to have some 1:1 client meeting photos. This can work really well for your brand as it represents how approachable you are and how great you are to work with! Instead of hiring a model which costs money, ask a friend or family member.
Choose your model wisely though! If your target market are women between the ages of 25-45, do not ask your boyfriend to be your model. Make sure you choose a friend who will align with who your target market is. Another thing to consider is how they present themselves in the photoshoot – make sure they wear neutral coloured clothing that will align with your brand aesthetic.
6. Lighting and time of day
Natural light is the best kind of light, I have found. So, if you can, take your photos during the day.
If your photoshoot is to be shot outdoors, the best times of day is when the sun is not so harsh e.g. sunrise, overcast days and later in the evening when the sun is just about to go down. If your aim is to take photos with harsh light, have the photoshoot at midday, however I don't recommend it if you will be in the photos (squinty eyes and sweaty armpits!).
7. Camera
The camera I use is my iPhone 10. It has a REALLY good camera and has the new feature of portrait mode which looks great (blurs our the background for depth of field), but to be honest, most of the iPhones have a great camera – so use it! If you don't have a great camera on your phone, surely you will know someone who does OR you could shop around online to see if you can snag a second hand one (if you have some spare cash). The investment in a good camera phone is well worth it, especially because social media is such a big factor in business for most people these days!
If you have a DSL you prefer to use, then totally do, however it just takes a little more effort when getting the images back to your phone to edit (because I edit all my images on my phone).
BTW make sure your phone or camera is fully charged AND you have enough memory – there is NOTHING worse than setting up ready to go and you can't save the images because you have no room left in storage. Yes, I have learnt that lesson first hand!
8. Photo editing!
Okay, this is my FAVOURITE part of the photoshoot process. I use the app Snapseed and love it – it's free and pretty amazing.
I use a set filter I created on the app so that my photos are consistently edited every single time. If there isn't an existing filter you like, have a play around with the settings and once you've found the perfect setting you'd like to use consistently, save it as a filter so it makes the photo editing process a breeze!
Here's a little how-to Here.
I've posted below some examples of my recent photoshoot. I lighten the image up with the "brightness" setting, I "desaturate" the image a little, toggle with a few other settings and add a grain to the photo and hey! My photos look pretty and consistent.
I hope you enjoyed this blog and it has given you some handy tips on how to do your own photoshoot on a budget!
If you have any feedback, would like to see anything else added or want to show me how your photos turned out, I'd love to hear from you! Send me a message on Instagram or email here.
Don't forget to download the freebie below for the ultimate photoshoot checklist to make your next shoot a breeze.
Happy photo taking!
---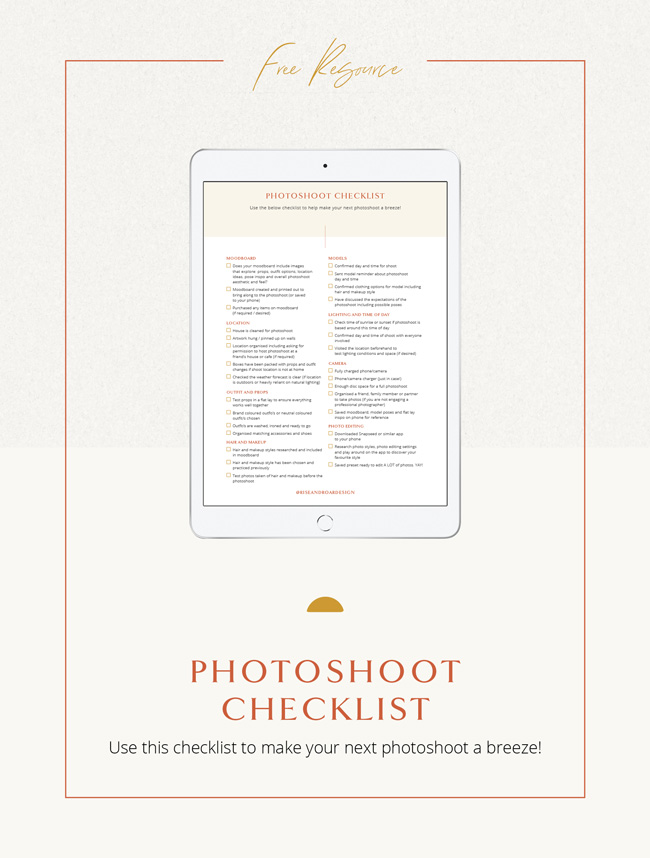 Download the Checklist Free Resource to make your next photoshoot a breeze!